4th. CAG
Locations

Submitted by: Warren Smith
---
From: Warren Smith
To: Tim Duffie
Subject: 4th CAG Unit Locations
Date: Thu, 24 Jul 1997 10:56:17 -0400
Tim,
I have some information about 4th CAG that I am "almost" positive is correct.
Location:
4-3-4 Van Hoa, Quang Tri Province
4-3-6 Bo Bang and Le Xuyen, Quang Tri Province
4-3-7 Ngo Xa Tay, Ngo Xa Dong (Tay =west and Dong=east)
These numbers may not match especially for 4-3-7. I think, if I remember correctly, there was a number reconfiguration in the spring/summer of 1969 and 4-3-7 became 4-3-3 or vise-versa. I'm not sure why that was but it sticks in my mind for some reason.
When I was at Van Hoa, the word was that there had never been a shot fired there in the entire conflict, at least up to June of 1969. I don't know if this is true, hyperbole, or local lore, but when I was there, the unit was more concerned about the local PF's than the VC. Out of the three CAPs I was in, this one had the most problems and I was glad when I got the chance to get to another CAP, 4-3-6, by far the best of the three. There were PF's (actually motivated hard chargers for the most part), Can Bo's (Revolutionary Development guys) who were no good and were pulled out of there due to a "lack of communication, between the Marines, PF's and the Can Bo's". For me it was too late. A Can Bo stole my camera and three rolls of exposed film. This led to me having no photos from Van Hoa, or the 4-3-6 except for a few sent to me by Rocky Jay. For this reason I enjoy seeing the photos included in the Web Site. Hopefully, someday soon some will show up from 4-3-6.
Keep up the good work! I don't know how you find the time and energy to do it but I glad you are doing this.
Warren Smith
---
From: Warren Smith
To: Tim Duffie
Subject: Re: 4th CAG Unit Locations
Tim,
I do have a detailed 1:50,000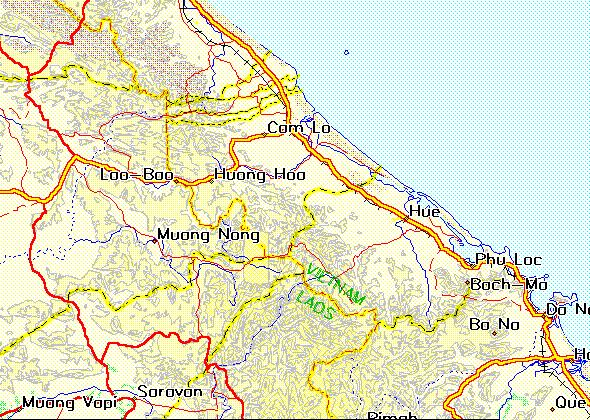 map of the Quang Tri area, and as I see it Trieu Ai was located SW of Quang Tri Combat Base. If your Tiger Papa 2 was converted to a numerical designation, it would probably be in 4-1 or maybe 4-2. My CAP's were located East or Northeast of Dong Ha Combat Base!
I would like to say, in defense of the PF's in my CAP's, that except for 4-3-4, the PF's were very good, one individual risking his life to help me during a firefight.
By the way, both the North and the South Vietnamese have trouble understanding Viets from the I Corps area. It is actually a third dialect. North and South understand each other better than they understand the people from the middle section of Viet Nam. I was trained in the South Vietnamese dialect, and I had a hell of a time at first understanding any thing that somebody from the Quang Tri area said. The guys in the first ARVN Division were a different story. I read them loud and clear.
Return To: