Tim,
I don't know if the following merits enough interest to get on your site, but I thought I'd share this story with you anyway. In 1974, I met Gen. & Mrs. Walt in a casino here in Las Vegas. I got out of the Corp in 1970 after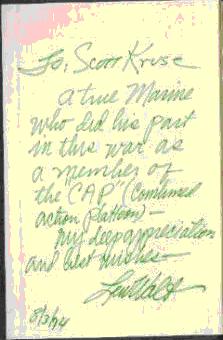 a 2 year enlistment and was attending UNLV at the time. I introduced myself as a former Marine and merely stated that I reconized him and wanted to meet him. He asked me who I served with in Viet Nam, and I answered that since my return in 1970, I had been asked that question a thousand times, and every time I answered, I got back a strange blank look. He simply said "Try me, I was a General, ya know." I said I served in the CAP program from 1969 to 1970. He literally grabbed me by both shoulders and almost yelled, "You were in the CAP program!?"
I said, "Yes sir, sounds like you heard of it." He said I was the first CAP Marine he had met since he retired and insisted I take him to the closest "Slop Shute" so we could sit and BS like 2 former marines should. He asked me how many times during my patrols and ambushes had I said to myself, "I'd like to get my hands on the SOB that thought this program up." I laughed and said perhaps a couple of times, and he laughed and said, "Here's your chance, the CAP program was my baby." We sat for about 3 hours in a dirty little bar and had a great time. Before he left, he gave me an 8x10 autographed picture of himself and a copy of his book which he was currently promoting called Strange War, Strange Strategy. If the attached file gets thru, you can see how he signed the book. That evening turned into a nice memory for me, and I remember feeling that this man really took pride in the CAP program and the fact that I was a former CAP Marine.
Scott Kruse