I Keep It In My Heart And Wait For You
Part II: The Return, 1996
By
Timothy A. Duffie
USMC, Viet Nam, 1966-67
---
Part II Section 3: Da Nang & Phuoc My
Monday afternoon my chauffeur arrived on her Honda to take me to the airport for my trip to Da Nang. I was pleased to be leaving Saigon. While an interesting diversion, Saigon is no more representative of Viet Nam than New York City is representative of America. Rural Viet Nam was what I had returned to see. I was anxious to get there.
I only had one night in Da Nang on this leg of the trip, so there is little worth discussing, other than the hotel accommodations. I stayed at the Xuan Thieu Hotel, off Highway 1 on the north side of Da Nang. It was close to the home of Diep and Tuyet, within view of the Hai Van Pass, and quite a pleasant location. Stepping out of my room in the early morning hours, a walk of less than 100 yards put me on the shores of the South China Sea. Not a bad way to start the day.
The stay in Da Nang was not totally uneventful, however. I did encounter my second incident of fear as I stood on Highway 1 my first night there. For the first time since arriving in Viet Nam, I stood outside in the dark, in an area where I could see the mountains of the Hai Van Pass in the distance, and palm trees on either side of me. As had happened the first time in Saigon, I had to fight the intense feeling of impending danger. I was virtually quivering, eyes darting to either side searching for the shelter of "friendly faces". And, as in Saigon earlier, the awareness that I was unarmed only added to my terror.
The scenario was not totally as it would have been in 1967. Highway 1 would have been pitch black back then. The villagers would have all been in their homes. The fact of cars and trucks moving up and down the highway, of lighted homes and people walking the highway, made no difference. My mind would not listen to reason. Once again I felt defenseless. In the heart of Vietnam, I had no place to run. I had no recourse but to stand and wait for the terror to go away.
But I remember the feeling. I don't like it, and I have no desire to ever experience it again!
The Trip Up Highway 1, Tuesday, May 7th.
Tuyet arranged for a car to take us to Dong Ha on Tuesday. A friend had agreed to take me the 135 miles up Highway 1 for $40.00 (I'm not going to keep trying to equate American dollars to Vietnamese money. Let's just say the $40.00 is somewhere in the vacinity of 40 zillion Vietnamese dong). The bus would have been cheaper, but we would not have been able to stop and visit in some of the hamlets (and Tuyet's family) as we traveled.
By 8:00 A.M., Tuesday, May 7th., we were climbing the Hai Van Pass at breakneck speeds approaching 25 MPH! That does not sound like much until you consider that in Viet Nam there seem to be no written or verbal Rules-Of-The-Road. They pass around curves...over the top of hills...on the left side or right side as circumstances dictate...the only constant being a continuous bleating of horns. Throughout all of this, the only person who seemed on the verge of a coronary was the Dinky-Dow Wakee tourist in the back seat. My hostess for the ride, Tuyet, and the driver, Nguyen Van Khanh, were treating it like just another day at the office!
With Phuoc My as our prime goal, we buzzed (correction...we TOOTED) our way through Phu Bai, Hue City, and Quang Tri. Those cities would have to await the return trip. My old CAP Village, and those friends who had survived the TET Offensive of 1968, and the destruction that had taken place in Quang Tri Province in 1972, had beckoned for twenty-nine years. I was ready to get there.
Phuoc My, Viet Nam
After passing a sign that said Phuoc My and crossing a bridge, Tuyet spoke quickly to Khanh. He skidded to a halt, then he put the car in reverse and backed across the street. Thinking something must have happened, I glanced out the rear window and saw Hue and her husband standing by the roadside watching the car.
Hue looked into the back seat and saw that it was me. In struggling to adequately describe what I saw in the next two seconds, there is but one thing I can think of to say: she went ballistic.
How do you describe someone who appears to be running, but is not moving? She seemed to spin around in circles. She literally started in two or three directions, all in a split second, but stopped. She just did not know what to do. Mostly, I think she wanted to be sure that all her neighbors were watching her moment of glory.
Who could blame her. After twenty-nine years, of the hundreds of thousands of American service personnel who had passed through that hamlet on the way to Khe Sanh and the DMZ, one had returned to visit her and her family. She was the center of attention. It is impossible for me to comprehend the prestige this had given her within the community. In a society still built around dignity and saving face, her's was beaming that day.
I arrived to a "wash the dust of the trip off your face", administered by Co Hue at the community well. I then settled into what turned out to be six days of people coming in from miles around just to visit with one of "our Marines" who had returned.
I decided that I would rather sit and share in the love and friendship of these people than go look at mountains and hills. So I never visited the DMZ, Rockpile, or anywhere else I had planned on visiting. Mountains could not have made me feel the way the people did. How would I have felt if someone had walked several miles to visit while I was standing somewhere taking pictures of mountains and hills? It just did not seem appropriate. I had said all along that I was returning to Viet Nam because I have friends there, not because I had fought a war there.
And my friends did not disappoint me!
I was visited by the brothers of Ha Si Nam, one of our PFs (local militia) who had saved my friend Ray Borowski's life, then fell on a satchel charge. The brothers heard that I was there, and that I remembered Ha Si Nam. They came to thank me. I had the chance to tell them that we had loved him, and that he was a great and fearless warrior. I had converted some slides to photos, and I took one of him for his family. They seemed grateful when I gave it to them. All pictures of him had been destroyed during the war.
(That scenario was repeated time and time again. As I met people who said they remembered me, I asked for childhood pictures. I wanted to remember them, but could not take thirty years off their faces. Far too often, they simply said that the pictures of their childhood had been destroyed during the war. One of the untold side effects of war. Never having a picture to look at and say, "That was me when I was 12.")
Another of our PFs, Ha Si Phu, had died in his home one afternoon in 1968. It can be said that Ha Si Phu had saved each Marine's life many times. He was adept at spotting booby traps and ambushes long before we entered the killing zone. In 1967, while on patrol south of Phuoc My one day, Ha Si Phu spotted a Viet Cong ambush along Highway 1. The ambush was waiting for a unit from the 1st. Battalion, 9th. Marines, on its way to Khe Sanh. We spoiled the ambush, and the 1/9 never knew how close they had come.
In 1968, while his wife and 8 month old daughter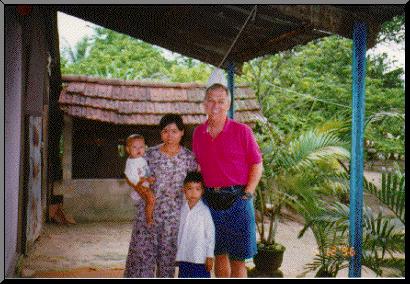 were in the rice paddies, a satchel charge had destroyed him and his home. So his only daughter, Co Dang Thi Quy, now 30, stopped by to see me. She came with his older brother. They had heard I was there, and that I had asked about
Co Dang Thi Quy With Her Son & Daughter.
Ha Si Phu. They came to thank me for remembering him. The next day Co Quy returned. This time she brought her five year old son and eight month old daughter. Her son heard her speaking of the American who was talking about his grandfather. He wanted to meet me.
She returned several times throughout the week. Her visits became very difficult for me. She just sat beside me at the table under the trees, quietly watching and listening. Smiling, though I do not totally understand why. She lives in poverty in a grass hut donated by her mother and step-father after her husband had left. The 100000 dong ($10.00) I had given her the first day for groceries was more money than she had ever seen at one time. Small change for the daughter of one whose skills had saved my life, and a few dozen Marines from the 1st./9th.
It seems she just wanted to connect with this American stranger who had fought beside her father. At times I was overwhelmed by memories of him. Sitting with her was a constant reminder of his courage and skills; it was a gentle renewal of my dislike for the macho, back alley courage of lesser men. I often found myself choking back tears. I simply wanted to hold her and tell her that things would get better. But I know they won't.
Those who have never experienced the love and understanding that can exist between people, often for intangible reasons, have missed one of life's most priceless treasures. This was one of those inexplicable connections during which words could have done little to enhance the emotion.
Each time she passed the hut, down the trail beside Co Hue's house, she would look to me and smile. She came for the last time on the day I was to leave Phuoc My. She is one of my many experiences that continue to bring tears with the memory.
Regarding Hairy Chests.
Each evening we entertained ourselves by plugging the videocam into the VCR compatible TV in my hotel room, and we watched the highlights of that day. I was always accompanied by any number of hangers-on from the day's activities. One evening it was Co Hue, her sister Co Hien, and Hien's two daughters.
(While I was there, indicating to me that I wasn't the only Marine they remembered, Co Hien asked if I could find her friend "Rick". Hien was only five when we were in Lai Phuoc, and she doesn't remember his last name. But "Rick" had befriended her, and she remembered him! Unfortunately, I don't. Another of the villagers asked about Ray Borowski. Fortunately I know where to find him. When I called and told him this, he said he had chills. With everything Vietnam Veterans have been told, and called, over the past 30 years, it was nice to be remembered by those we believed we were helping.)
I stepped into the bathroom for a quick waist up sponge bath. I returned to the room, quickly donned a T-shirt, then sat down to enjoy the tapes. The next day, as I sat in the arbor in front of Co Hue's home, I noticed Co Hue bringing her friends and neighbors up to me. She would point to my chest, then they would walk away giggling and talking animatedly as they patted themselves on the chest. What could possibly be so amusing?
Chest Hair!
Not a lot, mind you, by American standards. But more than they had seen in a long time. Sitting there in my pull-over golf shirt, my anemic little Brillo pad peeking over the top became the novelty of the day. I did a quick flashback to 1967. I remembered sitting in the marketplace in Lai Phuoc. Children would come up and gently pull the hair on my chest to see if it was real. And they would giggle. My visit had rekindled a pleasant memory for Co Hue and her friends. One of the few things from their childhood about which they can laugh.
(Later on Dien Bien Phu Street in Saigon, I was sitting with the street merchants late Saturday night. I watched a little girl stare at me, then turn to her mother and point to me. Her mother looked, and they both laughed. I looked at her mother, then I pointed to my hair. She nodded in agreement. If chest hair were the mark of royalty, in Viet Nam I could be king!)
In that respect, Viet Nam has not changed in the past twenty-nine years.
What Did You Do For Six Days In Phuoc My?
Eat.
We had lunch at the home of Mr. & Mrs. Nguyen Huu Hoang. They had visited with me at Co Hue's house for dinner the night before. While they were there, he had added to my notebook several pages of notes of his history of service to the Americans during the war. Row after row of names of his American supervisors. He needs to find someone who can verify his faithfulness to our cause so he can get approval to immigrate to the US. Since he would never think of asking for something without giving in return, he then invited us to their home for lunch the next day. While we were at his home, Mr. Hoa came and added his military biography to my ever growing notebook.
(We left that lunch table at about 6:00 P.M. and hurried back to Co Hue's house.
Le Thi Phuong Thao had been cooking all afternoon, and dinner was ready!)
Nguyen Thi Que, Co Hue's sister-in-law, rode her bicycle six miles from Quang Tri to join us for lunch...and to see if I could help. She returned to Quang Tri on my rented motorbike driven by her brother. When she returned, she had copies of documentation of her service during the war.
She arrived once more on Sunday for dinner, my last full day in Phuoc My. She made a formal presentation of some wonderful gifts for my wife. She thanked me in advance for everything I was going to do to help her. One more of those tearful memories.
Thoughts On Being A Messiah.
Each of these former allies touched my heart in many ways. Try as I would, I could not seem to convince them that I had arrived in Viet Nam on an airplane; I had not walked across the Pacific Ocean. Like pilgrims to a religious shrine, they each sat looking to me to be their messiah. Some traveled several miles in 100 degree heat just to talk to me. I never became totally comfortable with being a celebrity...or a messiah.
In the 1960s and 1970s, each had placed a bet on their favorite horse. That horse was awesome coming out of the gate, and their hopes had soared. They could not have known that their choice had no staying power. He faltered in the final turn; he lost it all in the home stretch. Their soaring hopes had soured. After the race was over, and an exhausted race horse had limped home for a much needed rest, the racetrack was locked to the outside world. Out of fear of retribution, these people had burned all evidence of their initial wager. Now they need that documentation, and it is gone. They felt trapped there forever. And then their messiah walked across the Pacific Ocean to Viet Nam.
I wish I could do what they think I can do!
I Must Be Rich! I Have Five More At Home That I Can't Find.
I stepped into the small side room in Co Hue's shop one day, and I found my interpreter, Tran Bich, sitting with a young lady I had watched for several days around the shop. She had a small kit on her lap. She was giving Bich a manicure. I watched as she took a well worn pair of scissors and carefully trimmed his nails.
The next day she sat watching as I took my fingernail clippers and attacked my surplus claws. When I was done, I started to put the clippers in my pocket. I noticed her look as those priceless clippers started to disappear. I respectfully took the clippers in both hands and bowed politely as I offered them to her.
Her face lit up. She ran to her little corner of the commercial world and returned with her kit. She carefully placed her new prize into the kit with her other tools.
I was reminded of the five or six fingernail clippers that I have at home, none of which I can find at any given moment. How many other manicurists could I have upgraded to state-of-the-art equipment had I thought to bring them with me?
Co Hien (Hue's Sister), Me, Co Hue
Hue's Ten Year Old Son
And, even worse, in our throw-away society, how many of those five or six had I bought simply because I could not find the others?
When faced with such poverty, I even came to have a better appreciation for my fingernail clippers!
Regarding Gifts.
In offering gifts, I had remembered to always offer with both hands, bowing respectfully as I made the offer. It had been my understanding that a one-handed, casual offering, could be perceived as an insult. I did not, however, anticipate a "Thank You". According to Vietnamese culture, in giving a gift the giver earns points toward heaven. The individual who received the gift was enabling the giver to earn those points. So a "Thank You" was deemed inappropriate.
However, in deference to our need to see gratitude for our generosity, my friends had all mastered the rather difficult English "Thank You". It actually comes out "T'an' 'ou".
(Later, viewing videoes of my home while back in Da Nang, Phuong Quyen complimented me on my "..beautiful green garden".
"Garden? I have no garden," I said.
Then, after giving it some thought, I said, "Oh! You mean my YARD!"
"Yes," she said. "You have a beautiful green YAR..." Hard as she tried, she just could not quite get the "d" in yard.)
It Is Okay To Clench Your Teeth; Just Use Both Hands And Bow Slightly As You Do It.
If you go to Viet Nam, be prepared to buy cartons of cigarettes. Even if you are a non-smoker. The adult men in Viet Nam all smoke....well....almost all of them. As the parade of locals continued throughout the week, it became mandatory that I offer each of the men a cigarette when they arrived...two handed offerings to each of my long procession of visitors.
Not only that, but there is the Sacred Male Bonding Ritual of the after meal cigarette. I found myself buying a carton of cigarettes almost daily. In the process, I learned that it is possible to extend a pack of cigarettes with two hands, bowing slightly while clenching my teeth as I watched money disappear at the end of my two fisted generosity!
(After those two weeks of cheerful giving, I should be a sure bet for heaven.)
Does Anybody Remember What You Wore When You Were Sixteen?
I was talking with Co Hue one afternoon about some of the things we remembered from the hamlet in 1967.
She said that she wore black pants and a purple blouse then.
That was 29 years ago!
If I were to see a picture of myself at 16 years old, I might!...maybe!...if I tried real hard!... remember the shirt and pants! But don't bet on it!
I guess in Viet Nam in 1967, there was not much else to remember.
Except death.
On My Next Visit, I Will Just Walk Around Naked.
After several days my T-shirts and golf shirts were beginning to plead with me for soap and water. I offered Hue's 14 year old daughter, Le Thi Phuong Nhung, some money to do my laundry. As my T-shirts hung on the line drying, one in particular caught the eye of Hue's 17 year old daughter, Le Thi Phuong Thao.
(Why is this entire narrative "her daughter this; her daughter that....."? Why were most of the visitors in Phuoc My women in 1996?
Where were all the boys/men in 1996...and 1967?
In 1996 they were there, but in Viet Nam it is the women who do most, if not all, of the domestic chores. Taking care of my every need fell into the category of a domestic task [notice that I can't bring myself to refer to it as a "chore"]. Phuong Nhung did my laundry; Phuong Thao did most of the cooking.
Co Hue's nineteen year old son was always hanging around with his contemporaries near the shop. Her ten year old son was close most of the time I was in Phuoc My. However, the young girls were considerably more forward and friendly. They were the ones who stared balefully at my shirts until I gave in and gave them to them. It was the girls who took my pony tail hat off my head and went strutting off across the courtyard.
As to why the visitors were mostly women, we knew mostly little girls in the hamlet in 1967. The males were either off fighting the war, or their parents had hidden them to keep them from being "conscripted" by one side or the other. The war continued for eight years after I left in 1967. So even the little boys I knew in the village are either dead from fighting the war in later years, or I had never met them. So the little girls grew up, and that is who came to visit me in 1996.)
Anyhow, back to my
laundry. Glancing up late that afternoon, I saw Phuong Thao walk out of the house wearing my 50th. year birthday present. It was a T-shirt that said, "Over What Hill.... Where...When...I Don't Remember Any Hill!" She giggled and glanced slyly at me to make absolutely certain I had noticed her. Then she walked quickly past me toward the shop. I grabbed my camera, chased her down, and she posed for the obligatory pictures (which is what she wanted in the first place!). Then she went back into the house, removed the T-shirt and put it back on the line with the rest of my laundry.
Phuong Thao With One Of My Favorite Shirts.
I Came Home With Only The Shirt On My Back
She didn't want to KEEP it...she only wanted to BORROW it.
RIIIIIGHT!
I sure do miss that shirt! It was one of my favorites. But, then again, so was my Fossil T-shirt ....and my Cincinnati Bengals T-Shirt....and my Cincinnati Reds 1990 World Championship T-shirt ....and my Guardian Angel lapel pin.
Guardian Angel lapel pin?
I Think She Needs A Guardian Angel More Than I Do.
As I was leaving for Viet Nam, my friend Tina Hubbard, from Rochester, NY, had met me at the airport. She gave me a Guardian Angel pin. She knew that I was nervous about the trip, and this was her thoughtful gift to me. I was pleased with her thoughtfulness, so I wore the pin whenever I had an appropriately collared shirt.
My last night in the hotel in Dong Ha, I sat on the floor with Le Thi Phuong Nhung, Co Hue's 14 year old daughter, snuggled tightly into my side as we watched the tapes from that day. Her eyes caught the pin. She stared at it intently. She reached and gently touched it, looking up to me often as though afraid I would get angry. She looked to her mother for help, back to the pin, then up to me. Hope and desire churned inside this beautiful child. Phuong Nhung was in love with that pin!
I didn't think Tina would object. I was close to the end of the trip, and the angel had served its purpose. I unfastened the pin, then I reached over and fastened it onto Phuong Nhung's collar.
She bounced! Literally! I had never seen anyone simply levitate off the ground. I still haven't figured out how she did it.
In an explosion of excitement, she bounced up and down, then she glanced anxiously around the room to see if all had witnessed her moment of glory. She said something to her mother. Then she settled just a little tighter into my side. When she nestled her head contentedly onto my shoulder, I decided that an angel pin had been a small price to pay for the special love that I had found for this
very real angel over the past several days.
At the house the next day I noticed that she was not wearing the pin. I asked Bich about it, and he said that she had carefully placed the pin in a box, and it was safely tucked away out of sight of prying eyes and potentially sticky fingers. Everything given to a Vietnamese individual is given to the family. Everything...that is...except this guardian angel pin!
My New Niece, Le Thi Phuong Nhung
She Now Has A Guardian Angel Of Her Own.
About My Nieces And Nephews In Phuoc My.
My third or fourth day in Phuoc My, Bich told me that Co Hue's children were beginning to dread the day I would leave the hamlet. They had anticipated my arrival with a degree of fear. No doubt they had heard stories about the war. They had heard of the Marines who had lived there thirty years ago. They knew that while we were there we had killed people. So they were afraid.
By the end of my visit, however, Phuong Nhung had become my shadow. Bich informed me that the children had begun to refer to me as "Uncle Tim". Family is sacred in Viet Nam. So when the little ones began referring to me as Uncle Tim, I understood that this was not something they simply tossed out just for appearances. In the few short days I was in Phuoc My, I had become part of the family.
Phuong Nhung had even expressed concern to her mother that she may cry when it came time for me to leave.
Well, my newfound "Little Niece", that will make at least two of us.
Some Things I Envy About Viet Nam.
Earlier I indicated that giving something to one is giving something to the family. The same could be said about giving something to the community. Several times during the week I dropped off one or two rolls of film in Dong Ha in the morning before venturing out into the hamlet. I was surprised when I arrived to find a Kodak Express shop in Dong Ha, right down from my hotel. We never had to wait long for the pictures. Same day service! By early that afternoon, the pictures were ready.
That afternoon, all whose pictures were on those rolls would meet in the courtyard of Co Hue's house, and the pictures were divided among the families. I always made two sets: one for the Co Hue and her family, and one for me. Everybody who had participated in the photo-orgy the previous day received copies of their pictures. Everybody! Nobody had to ask; it was simply done. If the picture was of someone else's family, Co Hue sat and patiently made sure that they got copies. Each has a memory of that special week. Of the more than 175 pictures I took in and around Phuoc My, Hue kept 50 or 60. The neighbors and relatives have all the rest.
Nobody is selfish in Phuoc My, Viet Nam. The neighbor lady came each day and helped Phuong Thao cook our meals. That gave Co Hue time to spend with her family and me. Each shirt and hat I gave away found itself on each of Hue's children at least once. Some found a home with the neighbor's kids.
Since most of the community is Buddhist, I can only assume that their religion, also, has a clause that says, "...it is better to give than to receive". And I can tell you that they do practice that!
Well...It Is One Big Happy Family.
In discussing the tight knit community organization with my interpreter, Bich, he provided a logical reason. Few people ever leave the hamlet. Most grow up and find a mate within the confines of a one or two mile radius. Since this has been going on for centuries, they accept the fact that they are all related. They don't stop to calculate whether or not an individual is a cousin thirty-seven times removed. Family is family. And in a hamlet in Viet Nam, they are all family.
Continue to Part 2, Section 4
---
This website designed and maintained by
Tim "CAPVet" Duffie
© 1997
All Rights Reserved


Counter Installed December 21, 2004